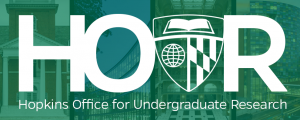 Vision: Our Hopkins undergraduates are seamlessly integrated into the world-class research taking place university-wide.
HOUR builds upon Johns Hopkins University's strengths and goals as America's first research university by taking advantage of the thousands of faculty, staff, and graduate students involved in research and creative projects promoting a culture of research and scholarship that enriches the undergraduate experience. HOUR's mission statement and the programs we support reflect these goals.
Over 75% of Hopkins undergraduates participate in at least one research experience during their time at Hopkins. Students average 8-10 hours per week in research experiences and often give up breaks to work full time in these experiences.
See our 2020 Annual Report.
Follow Us
Meet our Team
Contact Us: HOUR@jhu.edu
Tracy Smith, Director of Undergraduate Research

Email: tracysmith@jhu.edu
Cell Phone: 443-610-0469

Deborah Buffalin, Program Manager

Email: buffalin@jhu.edu
Cell Phone: 443-743-0582

Taskin Forkan, Student Assistant
HOUR is part of the Office of Integrative Learning and Life Design (ILLD). Learn more about ILLD at JHU HERE.